Welcome to Linda's Biscotti
Check out our latest flavors!

Vanilla Bean and French Toast now available
Changing the way you think about Biscotti

Two styles of Biscotti: Hard (double baked) and soft (single baked)
Half Dipped Biscotti

Try our half-dipped double-baked chocolate chip biscotti today (in quantities of 10)
Every flavor for every customer

We ship over 2 dozen flavors throughout the US and Canada
Your favorite Biscotti

Shipped right to your door
Welcome to Linda's Biscotti
Check out our latest flavors!
Vanilla Bean and French Toast now available
Changing the way you think about Biscotti
Two styles of Biscotti: Hard (double baked) and soft (single baked)
Half Dipped Biscotti
Try our half-dipped double-baked chocolate chip biscotti today (in quantities of 10)
Order Now!
Every flavor for every customer
We ship over 2 dozen flavors throughout the US and Canada
Your favorite Biscotti
Shipped right to your door
Come Visit Us For even more exciting treats!
Gift Ideas from Linda
From Biscotti cookie trays and small gift bags to homemade Soy candles in our Biscotti flavors, Linda's Biscotti can supply all your creative holiday gift needs.
Please note, candles, trays, and gift bags are only available for in-store pickup. Not eligible for online ordering.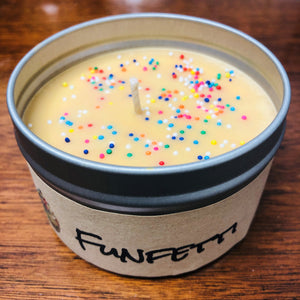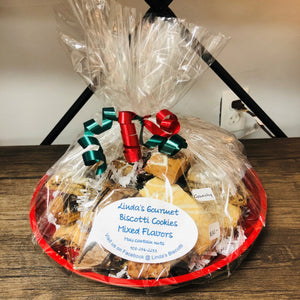 Biscotti Cookie Trays
Our cookie trays are currently available in small, medium, and large sizes. They can be in soft or hard style Biscotti and can come in a variety of flavors.
Quarantining is better with Linda's Biscotti
If you're working from home and getting the munchies, a LB of our delicious biscotti will come in handy!
You can always order an e-gift card too!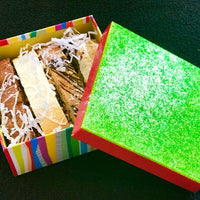 Our Biscotti Make Excellent Gifts
Whether you want to send a delicious treat to a friend across the country or would like to order some for your holiday dinner, our biscotti make the perfect gift during the holidays.